Inspection Failed Fire Safety Door Repairs
Fire Rate® provides complete & certified Fire Safety Inspection Repair services to economically resolve your inspection failed fire safety door issues on your propery.
We strive to make the fire door repair process easy for; Businesses, Residents, Owners, Body Corporates, Real estate's, Strata's, Building Managers, Fire Companies, Council and Fire Consultants. We coordinate all parties involved to simplify the repair process and guarantee customer satisfaction, while making it trouble free and easy process for you.
We also provide trade fire door services for fire inspection companies that specialise in electrical, plumbing or other fields looking for a professional trouble free door service to represent and help grow your company. Get it fixed right the first time & save on continued door problems. Discreet fire door services, representing other fire and trade companies, quality controlled with current insurances and WHS safety needs in place.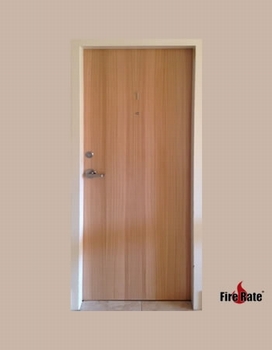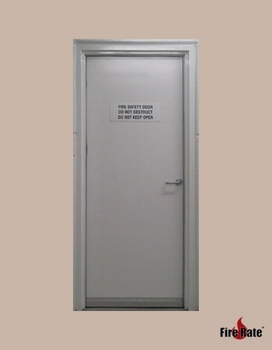 Residential, Commercial or Government Properties
One door or lots, Fire Rate® repair fire doors to all residential, commercial or government properties throughout Sydney. Flexible onsite normal business hours and afterhours repair services also available.
Our Repair Services Include
Failed fire doors from a fire inspection
Fire safety door upgrades required by council
Weather damage, brake-in's or vandalism
Fire door(s) cannot close/open correctly
Fire door hardware malfunctions
Replace & repair broken or torn door frame hinges
Full door & frame replacements
Repairs to existing fire door hardware
Replacements of fire door locks & Closers
Delaminating Door Repairs
Binding Door repairs
Existing Fire Door build-ups, to reduce excessive fire door gaps
Fire door Frame build-up
Non rated steel door frame conversions to comply as fire rated frames
Fire door gap reducers, for excessive side and head gaps of failed fire doors
Fire Door Closer adjustments, repairs & replacements
Fire door kick plate installations & repairs
Sequence selector repairs & replacements
Fire door pair head & bottom latches
Rim night latch repairs & replacements
Hold open closers & free arm closer installations, replacements & repairs
Fire door signage
Fire door split repairs
Tight fitting door repairs
Fire door latching repairs
Unit entry fire doors
Fire stair and final exit doors
Service cupboard fire, smoke and non-combustible doors
Single and double door (Pairs)
Frames, locks, closers and accessories
Fire door repair services for residential and commercial building requirements – Apartment entry fire doors, fire stair doors, final exit doors, tight fitting solid core doors, smoke doors, non-combustible lined service cupboard doors, steel sheeted security doors and custom veneers. Send us your requirements.
Our unit block needed several door repairs and some new doors, that our current fire inspection company failed. Fire Rate were better on price and now our doors look and work great. They even fixed my bathroom door.
We have 3 carpark fire exit doors that had some rust and water damage and they never closed or locked properly. We engaged Fire Rate to fix them & now they self-close and lock every time and our building is secure.
Inspection Failed Fire Door Repair FAQ's
Here are some frequently asked questions about inspection failed fire door repairs and servicing
What are the common problems with failed fire doors?

Damage to the fire door or frame, missing compliance door / frame tag(s), excessive gaps around the edges of the door. Door not automatically self latching from broken or in need of adjustment closer. If the frame is hollow - Not backfilled with grout or similar, uneven floors and a range of problems can occur. Fire Rate resolves these issues to get it compliant. Contact us today and get a great rate.

What happens if a fire door fails an inspection?

If a fire door fails an inspection, it must be repaired or replaced as soon as possible to ensure that it continues to provide adequate protection in the event of a fire. We offer both services and will recommend items to assist you. We are fire door experts that will save you.

Do Fire Rate issue certification for door/frame repairs or replacements?

Yes we do. Contact us for a professionally customised service to assist and solve your fire door problems.

My fire door steel frame is badly rusted at the bottom on both sides, approximately 300mm up but the rest of the frame is fine. Can this be repaired or is a whole new frame needed?

Fire Rate repair and replace rusted frame sections, rusted and torn steel hinges and loose frames. Pending how bad the damage is we can assess and advise on the best options to fix the problem(s) and issue certification.



We had a false alarm and the fire brigade broke our fire door to get in when we were not home. Can the fire door be repaired as it failed the inspection?

Generally no. If the internal core of the fire door has been damaged or drilled for added non-compliant lock or similar a new fire door will be needed.

Our car park fire exit door is badly damaged from the weather. Whole frame is rusted and the door is swollen and lacking security strength. Can it be fixed?

? If the damage is beyond repair a new door /frame system will be the best option. We can offer galvanised &/or stainless steel frame replacements with options to prolong the door/frame life. Customised quotations to upgrade and solve damaged unsecure safety door issues.    

How often should our unit block fire doors be inspected/serviced?

Pending the building's fire engineered solution and local council requirements. Once a year to apartment entry fire doors and every 6 months to common area fire exit doors is common practice. Fire doors are a vital lifeline to allow people to escape. Also to isolate and decrease the spread of fire. Fire Rate inspect, service and certify doors at the same time. This saves owners on added labour fees and call-backs for access to get the door(s) working correctly and to Australian Standards. If we cannot fix there and then, we provide a great rate to repair or replace if needed. Try us and see how we can save you. 

What are some common problems with fire doors?

Damaged frames, water damaged doors, missing tags, broken lock or torn/dropped hinge, broken closer, damaged seals, and doors that do not close properly. These issues can compromise the effectiveness of the door in preventing the spread of fire and smoke. We specialise in giving new life into existing doors. Contact us today to help save you. 

Can fire doors be repaired?

 Yes, fire doors can be repaired if they are damaged or not functioning properly. Repairs should only be carried out by a qualified technician who has experience working with fire doors.

How can I tell if my fire door can be repaired or needs replacing?

The easiest and fastest way is film or photos of the problems and send to our team. We will have a look and call to discuss what will be needed. Then a fast quotation is issued and if approved, we come to the site for measurements and information for repair sections or new frame/door sizes if needed. 
Enquire online on your fire door repair requirements
or call 1300 850 960